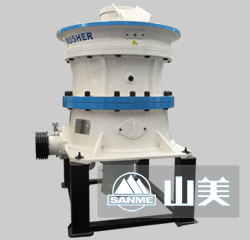 SMG Series Cone Crushers designed and made through absorbing the world advanced crushing technology, has achieved world advanced level. It is widely applied to metallurgy, construction, hydropower, transport, chemical and building material industries and suitable for crushing variety of hard and above middle-hard ores and rocks.

Download Product Document
Products Information
Features:
* Great crushing ration and high production efficiency.
* Between-layer crushing and more uniform size fraction of end products.
* Lower wear parts consumption and operation cost.
* Primary and fine crushing can be achievable just by replacing fixed cone.
* Advanced hydraulic technologies realize overload protection and hydraulic adjusting discharge opening, simplify crusher structure and lessen its weight.
* Reliable and advanced thin oil lubrication extends service life.
* Simple maintenance and convenient operation.