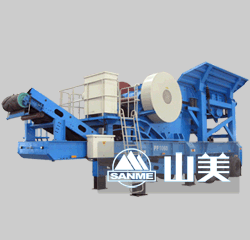 Portable Jaw Crushers, are used to crush the large material and screen the crushed materials primarily. This portable jaw crusher plant(mobile jaw crusher) is widely used in mine, building material, highway, rail way and hydropower industries, etc. The crushing and screening processes can be finished at one time to produce the required size and capacity.

Download Product Document
Products Information
The portable crushing plant includes Hopper,Vibrating Feeder, Jaw Crusher, Semi-trailer Chassis and other supporting parts. The material is fed into the hopper by the loader. Vibrating Feeder can prescreen the material during its working process, and feed bigger materials into Jaw Crusher for primary crushing process. Then crushed material will be carried out by the belt conveyor.
SANME portable jaw crusher(mobile jaw crusher) Plant has the advantage of reasonable match, unobstructed material discharge, reliable run, convenient operation, high efficiency and energy conservation. The good mobility can make it move in and between different quarries. It can also work with other plants to meet different requirements of customers.