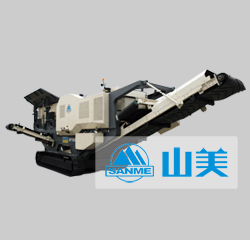 Designed and manufactured with Germany technology, MP-J Series Mobile Jaw Plants have reached the world advanced level. The plant adopts first level mobile crushing technique, which fully meets the customers' requirement of high mobility, high crushing efficiency and optimizes your business mode.

Download Product Document
Products Information
The Mobile Jaw Crushing Plants, meeting the technical qualification, have the features of high productivity, crushing ratio and uniformed product size.
Features :
1.Light weight, small size and best fit in narrow place.
2.Convenient transport, no harm to road, multifuctional equippments and wide application scope.
3.Mechatronic-hydraulical integrated multifunctional construction machinery and highly constructed with the small, medium and large size.
4.Turning in place with the capability of all-wheel drive, standard configuration, fast equipment changing, perfect protection system, best fit in narrow and complicated terrains.
5.The moving screen equipment uses double-deck sieving machinery, whth main frame equipped with excellent grid screening gallery, can stand freely without support.
6.Fuel oil saving rate can reach 25%, and the sieving mode is not only in line with environmental protection but low cost.
7.The attaching power package is the most optimized design.
Application :
1.Mobile Jaw Crushing Plants have the feature of multifunction operation.
2.It is widly used in the field of mining, coal mine and construction waste recycling, and performs well on the site of earthwork, urban infrastructure construction, road construction and construction field.
3.Processing topsoil and other materials, separating viscous concrete aggregate, applicable for construction and demolition industry, quarrying industry and screening after crushing .
Eco-friendly concept of Portable crawler plant:
Sound-proof system, noise collecting system, compact and flexible equipment can further meet construction waste crushing work between cities. Effective dedusting system, suitable diesel noise pollution discharge system and release system can remote control the barriers in the portable crushing and screening plant while the pre-screening system can greatly increase crushing efficiency.