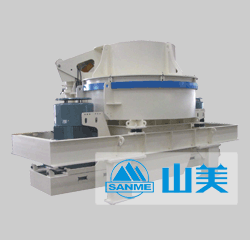 VSI Series Vertical Shaft Impact Crusher, which is high-functioned equipment for making sand and shaping, is researched and produced by our corporation, absorbed with the advanced technology from Germany, and owned advanced world standards. This equipment has two types: rock-on-rock and rock-on-iron.

Download Product Document
Products Information
Working Principle:
Material falls down to impeller cavity. Under great centrifugal force, it hits material that is flowing around the impeller as an umbel. After hitting each other, they force a vortex between impeller and shell and hit each other for several times, and finally smaller stone comes out and forms closed cycle. The required end product shape is controlled by the screen equipment.
Features and Benefits
◎ High production of crushing, has the function of fine crushing and rough frinding.
◎ Simple structure, easy to set up and repair, low cost in operation
◎ Excellent shape of product, mainly the product shape is cubic with small fraction of elongated flaky partice shape, suitable for aggregate shaping, manufactured sand.