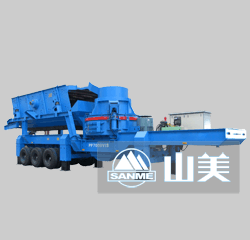 Portable Sand Making Plants, is convenient, flexible and strong in mobility, so mobile crushing plant can save a large construction capital and relocation. Raw Materials can be broken at the locale without being transported again and also can be moved with the promotional exploitation of the raw material, which saves a large number of transportation costs. On the basis of the professional technology, we optimize and introduce newly two large and three small series crushing and screening equipment.

Download Product Document
Products Information
Portable Sand Making Plants series is tracked crushing plant, and the portable series is tyred crushing plant. Each large series are divided into three series: rough, middle and fine crushing and screening mobile plant. Therefore, it can fully adapt to the various mobile crushing and screening, which creates more new business opportunities for customers while reducing the cost of the production.
Portable Sand Making Plants Features :
1. Reliable performance and convenient maintenance.
2. light weight and strong mobility.
3. Flexible combination and strong adaptability.