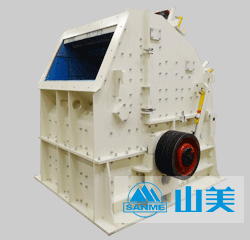 PF Series Impact Crusher is a new product that absorbs advanced technologies at home and abroad. This Series equipment;is applicable to crush the material with size less than 500mm and compression strength less than 320 MPa (eg: granite, limestone, concrete etc.). With its excellent performance, Impact Crusher is widely used in highway, hydroelectric, artificial stone and sand, crushing and building material industry etc. PF Series Impact Crusher has advantages such as simple structure, large crushing ratio, low energy consumption, high output, light weight, cubic final product and so on.

Download Product Document
Products Information
Impact Crusher is used in mineral processing, chemical, cement, construction, refractory material, ceramics, glass industrial sectors for medium and fine crushing medium-hard materials. Eg: limestone, clinker, slag, carbon coke, coal etc.
Performance Features:
1.Many cavities to crush, suitable for crushing hard rock.
2.Low and big feed opening makes the production line easy to arrange and increases the feeding material size.
3.New anti-abrasive material makes longer service life of blow bar, impact plate and liner plate.
4.High-chromium blow bar and unique impact liner plate are especially suitable for hard rock crushing, high efficiency and energy conservation.
5.Reasonable design of leveling plate making charge finer and cubic without interior cracks.
6.Product shape is cubic and discharge material size can be adjustable.
7.Simplify crushing circuit.
8.Use the hydraumatic to open, easy to maintain and change wear-parts.
PF Series Impact Crusher use impact energy to crush materials. When the impact crusher works, the motor drives the rotor of the impact crusher rotate with a high speed. When the materials get into the area which the hammers effect, under the impact function of the hammer at a high speed, materials are thrown to the impact device above the rotor continuously. And then the materials are rebounded from the impact liner to the area where the hammers effects for recrushing,  then discharged from the discharge port. Users can adjust the space between Impact Rack and Rotor Support to get the expected size.