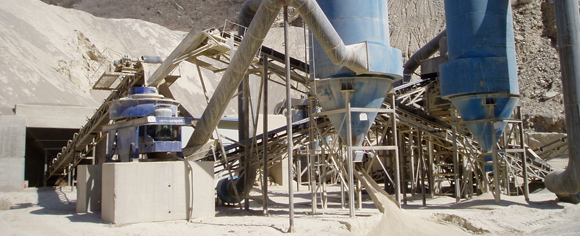 Sanme provides our customers with The whole series of sand-making production line and comprehensive technical support. The production line, with the capacity ranges from 50 to 500 t/h, is usually consists of viberating feeder, jaw crusher, vertical shaft impact crusher(sand maker), viberating screen, sand washer, belt conveyor and centralized electric cabinet. The world advanced VI series Vertical Shaft Impact Crusher coordinated with other components makes the production line outstanding in the field of sand-making. With the continuous efforts and researches, the whole series of sand-making production line manufactured by our company can be used in sand making and aggregate processing of stereoplasm limestone, granite, basalt, pebble and slag, ect. Besides, it has been widly used in the field of hydroelectric project, building material, express way and urban construction. According to different technique requirements, Shanghai Sanme combines various models of equipment to meet customers' demands.

The material is feeded by viberating feeder equably and continuously into jaw crusher for primary crushing, which reduces the size before it is transmited by the belt to sand maker for secondery crushing. After processing, the material is selected by viberating screen. The part reaching the requested particle size will be washed and collected by sand washer and discharged by end product belt conveyor while the rest with larger size will be recrushed after being sent back to sand maker by conveyor belt. All these forms a closed cycle which greatly promotes the automation of sand-making. The produt size and grade are adjustable according to the customers' needs. Last but not the least, powder separator and dust removing equipment can be good options in dry way sand-making.

Performance Introduction

This series of sand-making production line is of high automation and has the features of  low operating cost, high crushing ratio, energy saving, high capacity, low pollution and easy maintanence. The produced sand has even granule, cubic shape and proper grading, which meets the national standard for building sand.

The sand making production line configuration mainly depends on customers' requirements for aggregate specification, capacity and functions. We make every effort to supply our customers with the most reasonable and economic solutions as well as efficient pre-sale and after sale service. According to customers' configuration on site, we try our best to design the most reasonable and economical production line.

The crushing and screening equipments designed by Shanghai Sanme, because of the rational matching of all-level crushing equipments and precise spacial crossing arrangement, they have the characters of small floor space, high investment economical benefit, high-quality aggregate and low powder output rate in the process flow. Meanwhile, equipped with advanced electric control operating system, they make sure a free discharge of the whole flow, reliable and easy operation, energy efficiency and no pollution.