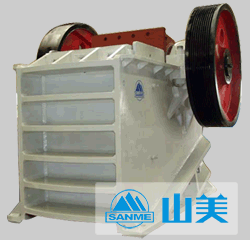 Jaw crusher is one of the most common crushing equipment. It is mainly applied in crushing the material with the compressive strength under 320Mpa. This jaw crusher is usually used in the field of mining, metallurgy, road & railway construction, water conservancy, chemical industry and so on. The jaw crusher of medium and large size designed and manufactured by our company have reached the advanced level with the features of high crushing ratio, high capacity, uniformed product size, simple structure, reliable operation, easy maintenance and low operation cost. PE series is usually used in coarse crushing, and PEX is used in secondary and fine crushing.

Download Product Document
Products Information
Wroking Principle:
PE/PEX series jaw crusher adopts the electric motor as the power. The eccentric shaft is revolved by an electric motor through v-belts, which causes the swing jaw moving in the preconcerted path to crush the feeding material. Thus the material will be crushed in the crushing chamber which is composed of the stationary jaw plate, swing jaw plate and the liner plate. The material will be discharged from the lower part of machine that is what you want.

Composition Structure:
It is made up of frame, eccentric shaft, grooved wheel, flywheel, moving jaw, side guard plate, toggle plate, toggle backseat, adjusting screw, returning spring, fixed jaw plate and moving jaw plate. Toggle plate is of safety function.

Features and benefits:
1.Simple structure, easy maintenance, reliable performance, low operation cost and large crushing ratio.
2.Deep crushing cavity with no dead area, which improves the feeding capacity and output.
3.Large crushing ratio and even product size.
4.Gasket-type adjustable discharge opening—reliable and convenient, and its big adjusting range ensures the flexibility.
5.Reliable lubrication system, convenient spare part replacement and easy maintenance.
6.Energy-saving: the stand-alone can reduce the energy consumption by 15-30% while the whole system can save energy by double.
7.Large discharge open range, which can meet different customers' requirements.
8.Low noise and dust pollution.