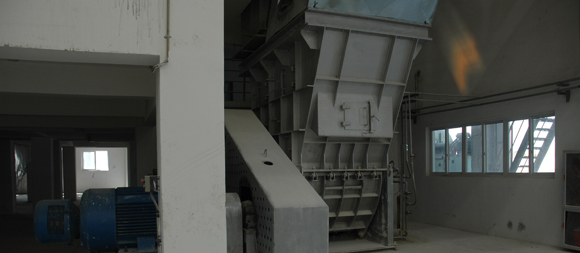 Gypsum board is made mostly from plaster of paris. It is one of new potential construction material with the features of thin, light, high intensity, sound-proofing, heat insulation, fireproofing and easy manufacturing. Gypsum board has been widely used as dalle, ceiling, internal partition, acoustic panel of hotel, store, factory, residence and office building.

Desulfurized gypsum slag used to be processed through the landfill, which seriously pollutes the environment and employs the farmland. Nowadays, the desulfurized gypsum slag can be used as construction gypsum powder after being processed by this machine. What's more,  the performance of the gypsum slag made by DSJ Series Drying Hammer Crushers is better than that of natural gypsum. The gypsum slag is the raw material of high-quality to produce gypsum board.

In gypsum board industry, the rotor on DSJ Series Drying Hammer Crusher can break up and throw the desulfurized gypsum slag, whose water content is no more than 12%. During this process, the gypsum slag exchanges the heat with the intake hot air of 550℃and then forms the material with the max water content less than 1%, which goes into rising pipeline from outlet duct and enters the next process taken by hot air. DSJ Series Drying Hammer Crusher can also be used to dry and crush filtered cake in cement industry and calcium carbide slag in pro-environmental fields.